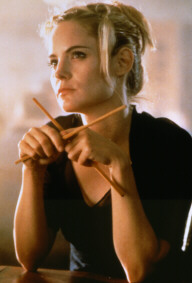 Jennifer Jason Leigh is an extreme Aquarian. She was born with Sun, Moon, Mercury, Venus, Mars, Jupiter and Saturn in Aquarius. To see her natal chart, please
link here to Astrotheme
.
Leigh is an actress who experienced her peak in fame in her 20's and early 30's. She will be turning 43 on February 5th. The current transit of Jupiter through Libra should bring her back into the media limelight in a big way this year. Jupiter will be stationing at 19 degrees on February 1st and again at 9 degrees in May. Leigh's chart is such that she could benefit greatly from this transit.
Jupiter will be making an extended trine to her Sun/Venus/Jupiter conjunction at 16 to 19 degrees of Aquarius from her fifth house in Libra. Jupiter will also be making an extended trine to her Ascendant at 13 degrees of Gemini. Her Sun/Venus/Jupiter conjunction in Aquarius is placed in her ninth house, but close enough to her Midheaven to be considered conjunct with the MC at 23 degrees of Aquarius. Her moon in Aquarius exactly opposes Uranus; the ruler of all her planets. Her progressed Jupiter is now conjunct this Moon in her 10th house. Transiting Pluto is also sextiling her Midheaven this year.


It will be interesting to see whether we hear a lot more about Leigh in 2005.